We respectfully heard Moreno's message regarding the issues of homosexual marriage. In one simple word, we respectfully respond to you: "You are Wrong". It is not about you or the Constitution or about (Respectfully) the Supreme Court of Ecuador. It is about the highest court of the Land and the Universe, the Law of God.
Escuchamos respetuosamente el mensaje del Sr. Presidente, Moreno con respecto a los problemas del matrimonio homo-sexual.
As a Catholic, we are simply astonished that you would circumvent the law that your faith abides by, the law of the Bible. Perhaps, we can respectfully direct the attention to the words of the highest person who made, both humans and all the Courts of the land:
All the wording and anxiety regarding today's trite questions about marriage can be simple solved by this simple words:
22 Then the LORD God made a woman from the rib he had taken out of the man, and he brought her to the man. 
23 The man said, "This is now bone of my bones and flesh of my flesh; she shall be called 'woman,' for she was taken out of man." 
24That is why a man leaves his father and mother and is united to his wife, and they become one flesh.
Spanish Version
Escuchamos respetuosamente el mensaje del Sr. Presidente, Moreno con respecto a los problemas del matrimonio homo-sexual.
En una palabra simple, le respondemos respetuosamente: "Usted está equivocado". No se trata de usted, o de la Constitución o de (con respeto) de la Corte Suprema de Ecuador.
Se trata de la corte más alta de la Tierra y el Universo, la Ley de Dios. Como católico, que entendemos es Ud., simplemente nos sorprende que usted se burlara la ley que representa su fe, la ley de la Biblia.
Tal vez, podemos dirigir respetuosamente la atención a las palabras de la persona más alta, a la Corte que formó, tanto los humanos como todos los Tribunales de la tierra:
Todas las palabras y la ansiedad con respecto a las preguntas triviales de hoy sobre el matrimonio pueden resolverse de manera simple con estas simples palabras:
22 Entonces el SEÑOR, Dios, hizo de la costilla que sacó del hombre a una mujer, y la llevó al hombre.
23 El hombre dijo: "Esto es ahora hueso de mis huesos y carne de mi carne; ella será llamada "mujer", porque fue sacada del hombre ".
24 Por eso un hombre deja a su padre ya su madre y se une a su esposa, y se convierten en una sola carne.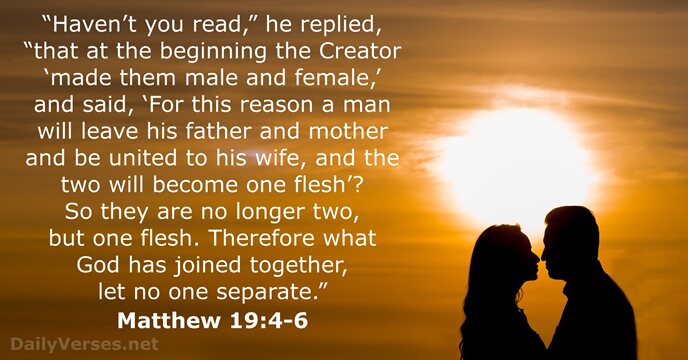 4 "¿No has leído", respondió, "que al principio el Creador 'los hizo hombres y mujeres' '[a] 5 y dijo:' Por esta razón, un hombre dejará a su padre ya su madre y se unirá a su esposa, y los dos se convertirán en una sola carne '[b]? 6 Así que ya no son dos, sino una sola carne. Por tanto, lo que Dios juntó, no lo separe nadie.
Mathew 19:4-6
Genesis 2:22-24
Fuente/ Sources:
https://www.eluniverso.com/bonil (erroneously depicting true love)
https://www.biblegateway.com/passage/?search=Matthew+19%3A4-6&version=NIV
Mathew 19:4-6
Genesis 2:22-24